The Furnace Man is a family owned and operated business. We offer service to the Bay Area Peninsula for heating and air conditioning installation, repair, and maintenance.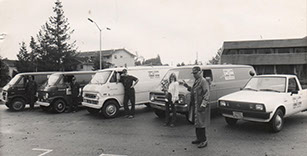 Our business was started by my father as Peninsula Home Heating in 1960. I joined him in 1980 when we became The Furnace Man and continued with this partnership until his passing in 1995.
At The Furnace Man, we are dedicated to running an honest business where the customer comes first. The company has been endorsed by the Better Business Bureau since April 1st, 1991, and has received the highest business rating: A+. We are very thankful for our customers who keep spreading the word about our business. Many of our new customers have been recommended by friends, family and neighbors.

Many years ago, my dad, Olaf, picked this logo to represent our business. He said that he liked that it was simple: a man with a tool box ready to go to work. 52 years later - we are still ready to go to work for you!
Give us a call today and let us show you the same customer service that has kept us in business since 1960.